#8

I've been laying low. Bit of a gap from the previous newsletter but life has been busy. I've had family visiting from India. They're all overjoyed to see my 4-month-old son. The house feels alive with noise and smells and spices. It thrums. I sit into the late hours reminiscing with my sister about being kids in Mumbai. We remember all that we were but also all that has changed over these past years. It brings me great joy but it also means I've been spending increasing amounts of time away from a screen and probably putting off work in the process.

We'll put out that fire when we get to it.


WORK

Been largely focusing on getting scripts out the door and some thinking work, this week. Sent off a bunch of documents on the non-comics project. Let's call it, PROJECT KEY. We'll find out soon-ish whether it is likely to build into something new.

Sent out scripts for Swamp Thing #9, Venom #3 and PROJECT PRESSURE at DC - more scripts on Radio Apocalypse, The Silver Coin and another creator owned project with Evan Cagle as well.

Outlined a chunk of PROJECT GEMINI (w Dan Watters) and today's all about outlining another thing that is yet to grow into something that needs a name, yet.

That is all to say, things were busy. Add to that new baby at home and the fact that I've been really wanting to take some time to think, let the mind wander and generally be healthier and less stressed about work.

I knew this time was coming and so with that in view, I made some changes to how many things I was working on.


GOODBYE, SO LONG, I WILL MISS YOU: Catwoman and Justice League Dark

About 3 months ago, with my personal life about to get a lot busier, I went to my editors at DC and with a very heavy heart and called time on a couple of things I was working on. My story-arc on Catwoman was coming to a climactic point and tying into the year-end event FEAR STATE, I figured that was a good point for me to take my bow and hand off the book to its next creative team.

It was a similar matter of timing with Justice League Dark. I have had an absolute riot of a time working on the Justice League Dark 10 page back-ups. But coming up with a story-shape twice a month and trying to really swing to pack as much story as I could into a 10 pager was challenging, fun but also mentally exhausting. I kept it going for 12 back-up stories and an annual. Having also written the end of the previous run on the book.

I'm not the kind of writer who'll rattle off a full script in a couple of days. I take my time with them and I hate feeling like I didn't give a project everything I could. I am obsessive by nature and invariably that meant that juggling so many books for bad for my health and peace of mind. So I went to Jessica Chen (my editor on Catwoman) and Brittany Holzher (my editor on JLD) and I called time on the books with December of this year.

I have absolutely loved writing them both. I've been treated so incredibly well by readers/fans of the books who've shown a lot of trust in a writer who is inclined to make them do a little bit of work to engage with his stories. I hope everyone who's been reading these stories has been enjoying the ride so far.

DC editorial tell me both books expanded on their readerships during my time on them. I'll take that as a win.






Catwoman #38 was solicited this week. It's cover (by the brilliant Yanick Paquette) shows Selina leaving Alleytown - the quiet pawprints of a cat trailing behind her. I came up with that idea in conversation with the editors. I thought it was apt.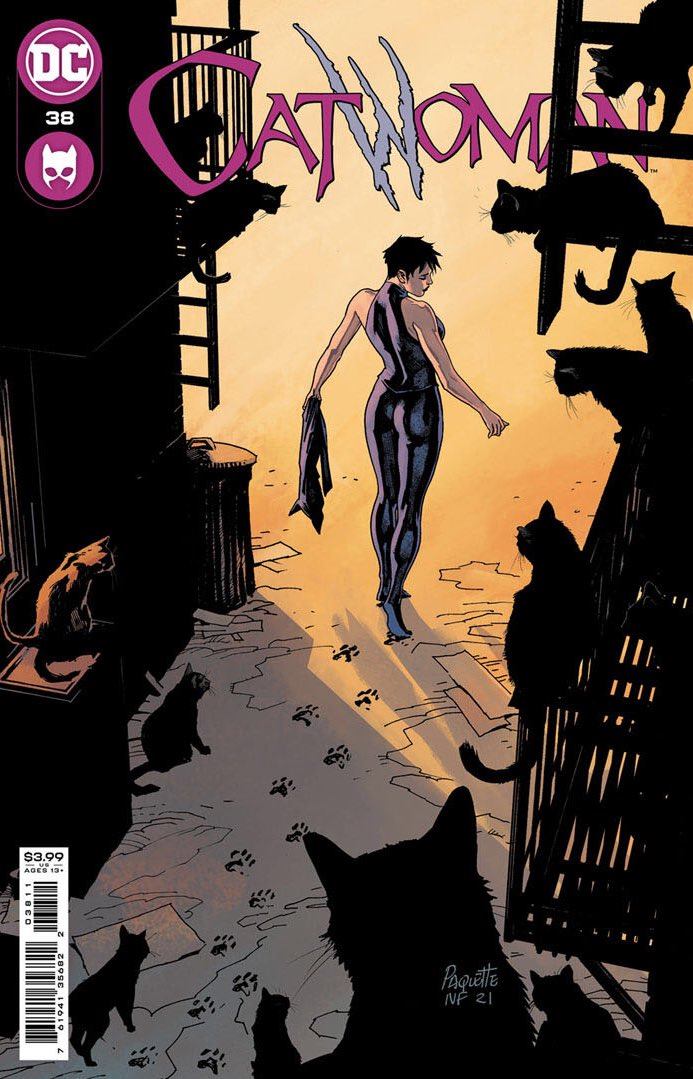 STILL MORE TO COME AT DC

By end of this month I will be writing THE SWAMP THING #10 which marks the end of Season 1. When Mike Perkins, Spicer, Aditya and I started with this book - right from issue #1 there was a tremendous response to our work. I've not been writing comics for very long. 5 years by my count and I'd never seen the kind of support there was from readers and long-time Swamp Thing fans when this book came out. We were doing all kinds of crazy things-- a new host, an Indian lead and I'd like to think stories that were taking narrative risks in themselves. There were all kinds of reasons we could've stumbled. But we didnt and I owe much love to my collaborators, my editors and the readers.

Season #2 is incoming.
More news soon.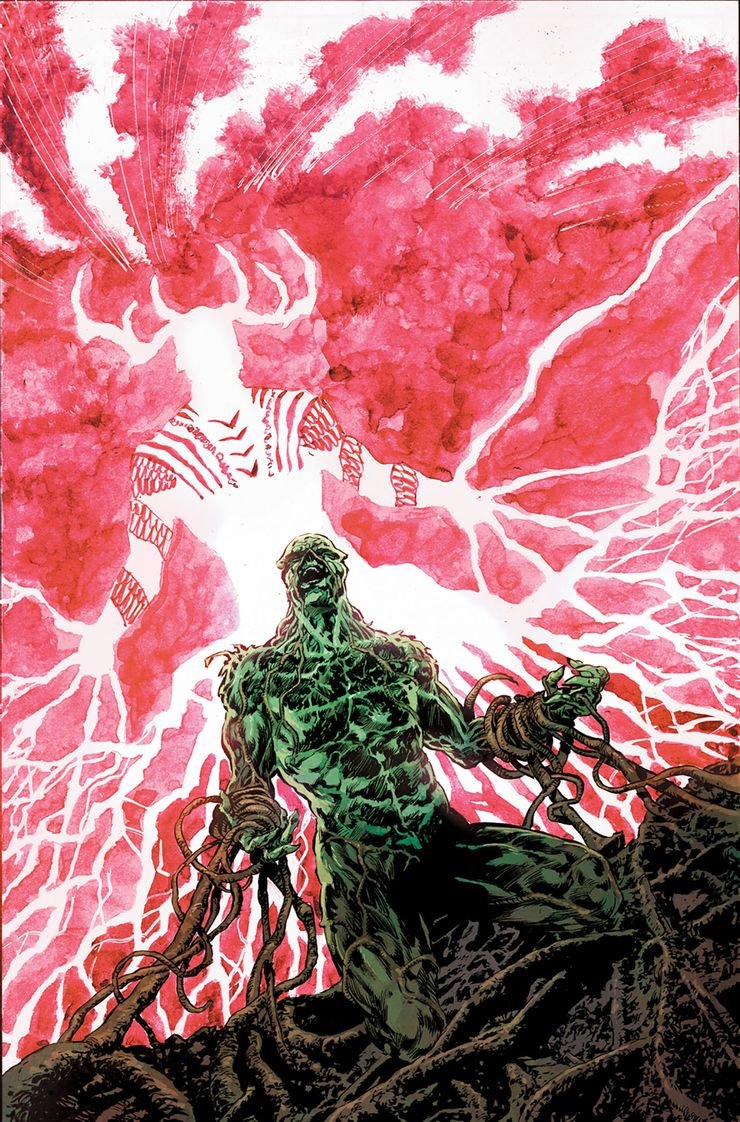 Work also continues on the previously mentioned PROJECT PRESSURE and I'm chatting about a potential thing for 2022 which is in its nascent stage but absolutely brimming with potential.

So, watch this space.
OUT THIS WEEK:




CATWOMAN
#
35 (OUT 21/09)




JUSTICE LEAGUE with JUSTICE LEAGUE DARK
#
68 (OUT 21/09)
ANNOUNCEMENTS
THE MANY DEATHS OF LAILA STARR TPB
For those who have been waiting to read the story in one sitting -- The trade paperback of The Many Deaths of Laila Starr, collecting all five issues, is in Boom! Comics' November 2021 solicitations!

Here are some of the lovely things people have said about the book:

"The Many Deaths of Laila Starr is easily one of the definitive comic book experiences that should be read by everyone, comic fans, and non-comic fans alike. There is little doubt that this will be one of the series whose collected form will find a home on many, many shelves and will be talked about for years to come in the same revered tones reserved for the all-time classic comic book stories of the ages." – comicon.com

"The Many Deaths of Laila Starr is an incredible work as a series, but #5 is a brilliant piece of art that goes beyond its pages as both wisdom of the human experience and art. It is, simply put, a masterpiece." – comicbook.com

" "The Many Deaths of Laila Starr" is as well constructed and philosophically nuanced as any Literary Fiction out there. It's also one of those comics that comes along and reimagines the medium." – multiversitycomics.com

"It is a glorious reminder in a troubled world that there are still things that make life worth living." — majorspoilers.com

The collected TPB will be out on January 12, 2022!
THOUGHT BUBBLE 2021
The programme for Thought Bubble 2021 is live and is, as always, chock-full of amazing panels and events! I'll be attending both days of the convention, and will be a guest on three panels:
CRAFT CORNER: PITCHING


Last time I talked a little bit about pitching-- specifically motivations behind what to include in a pitch and what a pitch isn't intended to do.

So let's talk about what I do want to do with a pitch, this time.

I want my pitch to succinctly convey the essence of my story.

I try to do this with my opening paragraph. This thing has a lot of names - Hi-concept, The Elevator Pitch, The 1 paragraph pitch etc. The intent / the motivation behind all of it is the same. Reading this short paragraph should convey to me what the story is about. What it is at its core. I am not concerned at this point whether it is exhaustive in detail or if it even desmonstrates the mechanism of the plot. My main aim is to convey in an engaging way the big-picture sense of what readers are likely to get out of the story.

Another way to think of this is that story synopses generally tend to be a little dry. So everything that follows this paragraph is largely going to be hyper-condensed descriptions of plot and character choices that aren't really going to be very engaging to an editor. It's a bit like reading a recipie-- you can do all you want to make it interesting but it's never going to "feel" like a story. You can't taste the food yet.

That "feel" or "flavour" is what I'm trying to convey with the opening paragraph. To tumble further down this cooking metaphor, your hi-concept/elevator pitch is the whiff of your story's flavour that is likely to entice/engage your editor. So excitement, emotion and tone are the focus here. Beyond that the challenge is to make it all fit within a few lines.

Once you have conveyed the flavour, the essense, the aroma of your story. Everything that follows the ingredients, the cooking, the technical description all becomes enriched by the context that the opening paragraph provides.


My synopsis conveys the shape of my story.

I think I first came across this idea in a Gaiman interview. All stories have a "shape". This has partly to do with mechanical stuff like story-structure, dramatic arcs, act structure and such. But largely the way I think about this-- it is the shape of the emotional journey of your story as you see it. Vague, I know-- but analysing this stuff is very much trying to articulate the nebulous within an art-form, so bear with me.

To use another metaphor. This is what a sculptor's statue looks like before any detail has been chiselled in. I imagine, most story-tellers begin with a lump of rock. The sum of all things that are in your mind - voluminous but devoid of any useful shape. Then, thinking about the shape of a story is like trying to envision your sculpture within that lump of rock. You don't know the angle of the nose or the glance of the eyes or the position of the fingers yet but you can see the pose, the body. You can see its shape.

When I write a synopsis into a pitch, my motivation is to convey this shape. I'm trying to say, "This is what I see within this lump of rock." I try to avoid giving too much plot detail here. Enough to demonstrate there is a chracter arc and dramatic tension in the story but not so much detail that you're likely to lose your editor. Remember this stuff happens over the course of 140+ pages in a comic. You're gently leading a reader through your story. All that detail condensed into an A4 page is likely to become overwhelming.

A useful thing to do here is to think of the story in terms of dramatic choices. Invariably a character focused story tends to be a series of scenarios presented to a character - who makes choices in response and those choices lead to further scenarios. The story is shaped by your characters and your characters are shaped by it in return. Trying to write a synopsis in a way that demonstrates this, tends to keep things simple and focused.

It's okay to not know certain things.

The most common piece of forewarning I see for pitches is, "No surprises. Tell your editor the end. Demonstrate to them how your story comes together."-- I'm paraphrasing.

None of this is bad advice and the endevour should absolutely be to convey a complete shape and demonstrate how it all works. But on an artistic level, why am I writing a story if I know absolutely everything about it? What do I, the artist, get out of telling a story that is already entirely told in my head? In my experience, if there is no room for surprise or exploration of the unknown within my story, I tend to get bored. And if that's the case, my readers are likely to get bored.

I always have room for exploration in my story and so in my proposals. While I know how I'd want things to end. I don't know that in any detail and I don't know exactly what gets me there. So my motivation in my pitch isn't necessarily to convey my ending but to demonstrate to my editor that I have given myself enough material and enough dramatic circumstance, for me to be able to fashion an ending from it.

Beyond that it is a matter of trust. And just as every pitch is a writer taking a creative risk-- an extention of the hand, a revelation of the soft interior of their story, their ideas. There must be an expectation that your editor takes an equal risk in accepting that there are gaps that the writer will eventually know how to navigate. After all, the joy of making up stuff comes from sailing your storytelling ship through uncharted waters.

These are the things I ponder when I write pitches and proposals. I struggle with them still. But when I find myself struggling I ask what am I trying to do with this? And I've found that clarity of thought in that regard is far more useful than a list of things to put into my document.

Next Week, we'll talk about voice and style in storytelling.

In conversation, 3 drinks down, an artist friend of mine said to me last week. "Like whales we are lost beneath the deep churning currents of our lives, but we musn't forget to come up for some air ocassionally and show the tourists what they're missing."

This amused me to no end. Come up for some air and show the tourists what they're missing.

Until next time <3




- Ram