Good morning, CHS. Katie here. 👋 Today we're going to talk about one of our favorite words: y'all.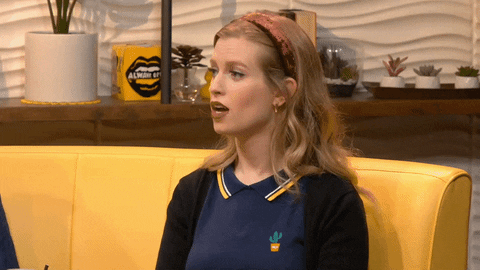 While the word "y'all" is ubiquitous among native Southerners, I've visited plenty of places where people will tell you it's not a word at all. (And that's false.)

Unlike many languages, English lacks a second-person plural, so the word "you" can be used to address a single person or a group of people. For clarity, many American English speakers in regions around the country have adopted the phrase "you all" to indicate a multitude, and "y'all" just so happens to be a grammatically-acceptable contraction of that (although similar words like "you'uns" or "youse" are typically less adored by strict grammarians).

But there are rules, y'all. As with any linguistic contraction — think I'm, she's, won't, we've — the apostrophe replaces letters that are missing from the full word or phrase. Since "y'all" is the abbreviated form of "you all," the apostrophe is placed where the o + u are missing. Thus, y'all not ya'll.

Another benefit of using it? It's totally gender neutral.

If you're interested in learning more about the history of this or other Southern dialectisms, check out the following titles: the Dictionary of Smoky Mountain English, The Companion to Southern Literature + Speaking American: How Y'all, Youse, and You Guys Talk.
| | | |
| --- | --- | --- |
|   | What's your go-to plural for "you"? |   |
Coronavirus
○ On Tuesday, DHEC announced 890 new cases of coronavirus and 14 additional deaths in SC. That brings the total number of cases in SC of COVID-19 to 26,572, and the total deaths to 673.

○ Of those new cases, 211 were reported in Charleston County, 47 were in Berkeley County, and 30 were in Dorchester County. One reported death occurred in Charleston County.

○ On Tuesday, Gov. McMaster announced a new decal program to recognize restaurants abiding by CDC + DHEC health recommendations. To obtain the decal, an online course and limited DHEC inspection must be completed. Additionally, online portal Palmetto Priority will allow patrons to comment on experiences at participating restaurants and report behaviors that don't follow recommendations.

○ In response to rising COVID-19 cases in South Carolina, the state has increased the testing goal found in the state's testing plan to between 110,000 and 165,000 residents per month through the end of 2020. Click here for more information on testing locations.

○ Last week, SC DHEC announced that 57 of the state's confirmed coronavirus cases are associated with daycares, including children and staff. (WIS)

○ MUSC Health is using the latest technology to keep patients connected with their families + doctors. From telehealth visits to iPad COVID-19 screenings, the hospital is taking the pandemic as an opportunity to elevate patient experience. See how here. Ⓟ

○ In an effort to help the community, Captain's Comics began producing + selling their own masks covered in superheroes, Disney characters, and more. To date, the organization has raised over $8,000 to spend at local restaurants as a large tip for servers. (Holy City Sinner)

○ SCDHEC has created a coloring + activity book titled "Why Can't I" to help younger children better understand COVID-19. Click here to download the book in either English or Spanish.
Hey, there. Looking for today's #MustDo events? In accordance with the CDC's recommendations regarding public gatherings, we have decided to postpone public event coverage for the time being. We look forward to bringing you Charleston's #MustDo events soon (until then, feel free to submit your virtual events here).
#CHStoday
Ah, a young Darius Rucker pictured before he knew he was "History in the Making." 🎵

Did you know that these four friends founded Hootie and the Blowfish while attending UofSC and living in the basement of a frat house? To all the recent grads out there – anything is possible.

Happy graduation and congratulations from our team + the band.
#DYK that your photo could be featured in our newsletter? Just use #CHStoday on social media.
News Notes
Weather
○ 88º | Scattered thunderstorms | 50% chance of rain
○ A large plume of dust is heading towards SC for the weekend. Also referred to as the Saharan Air Layer, the dust could bring hazy skies, increased allergies + intense sunrises and sunsets through June 30, according to the National Weather Service's Eastern Region. (The State)

Tide
○ Low: 5:04 a.m. + 5:03 p.m.
○ High: 11:02 a.m. + 11:17 p.m.

Civic
○ The Charleston County Treasurer's Office has begun offering a $1 decal at the time of tax payment on motor vehicle renewals should citizens choose to pay in-person at a Treasurer's Office Service Center. However, the option to pay online and receive a mailed decal still remains. (Holy City Sinner)
○ On Monday afternoon, South Carolina lawmakers introduced the SC Law Enforcement Accountability, Duty and Standards (LEADS) Act. The act includes full funding of body cameras, an officer involved shooting investigation agency and additional training and diversity for law enforcement officers. (WCBD)

Development
○ The Charleston Parks Department is looking to build a surface parking lot at Angel Oak Tree. With approval, this parking lot would have around 50 parking spaces for cars and additional spaces for buses. More info here. (WCSC)

Announced
○ Taco Boy has chosen to temporarily close its Charleston + Folly Beach locations through today. The restaurant says this temporary closure is an effort to keep their patrons, staff and community safe and healthy. (WCSC)
○ Lowcountry-inspired kettle chip producer Lowcountry Kettle (4447 Dorchester Road) announced that they will be expanding within Charleston County, creating a total of 24 new jobs. The expansion is on schedule for completion during the summer of 2020. If you are interested in joining the team, click here.

ReOpen
○ 5Church Charleston (32B N Market St.) has reopened for dine-in service, serving brunch, lunch and dinner. In response to COVID-19, the restaurant has taken strict measures to ensure restaurant safety and cleanliness. Reservations are encouraged and can be made here.

Edu
○ Berkeley County School District is asking for parent feedback through an online survey regarding schools re-opening for the 2020-21 school year. The survey covers topics such as schedule alterations and health and safety measures as a family. (WCBD)

Number
○ $39. The amount you'll pay for 4 bottles of wine, customized to your taste buds, through Winc (a 40% off deal exclusive to our readers; including direct shipping to your door). Take their 6-question palette quiz and get wine paired to your preferences here. 🍷 Ⓟ
TheKnow
14 Lockwood Dr., Unit 1D | Photo by Keen Eye Marketing
Despite the ongoing COVID-19 crisis, Charlestonians are still interested in buying + selling homes.

Across SC, the housing market was strong last year. Both total home sales and new listings increased 4% in 2019. However, the pandemic drove statewide home sales down by 21% in April 2020. And only 6,800 real estate transactions took place in the month of April compared to 8,641 in 2019. But, experts remain optimistic that the market will bounce back.

Inventory is also low, however, as restrictions lift, experts like real estate agent BJ D'Elia with Daniel Ravenel Sotheby's International Realty say potential buyers will likely see a surge of listings – which should help with the pent-up demand from the quarantine. Experts also expect to see low mortgage rates continue throughout the remainder of 2020; good for first-time buyers + those looking to refinance.

TL;DR: Locally, our market remains strong, and now is still a good time to invest in a home in Charleston.

So, how do you buy a home during a pandemic?

Very carefully, says D'Elia, who also believes much will stay the same as the shutdown ends. "Hot houses in cool neighborhoods will continue to break local records." Bonus: Before he moved here full-time, he vacationed in Charleston for the past two decades – so he knows a thing or two about the city.
Real estate agent BJ D'Elia IV | Photo by Chris & Cami
Want to know what the "Brooklyn" of Charleston is? He'll be able to tell you it's Wagener Terrace. His weekly newsletter is full of insider tips, and he wants to help locals + visitors find their Charleston dream home. Ⓟ
#Shareworthy
The Wrap
🔄 Catch up on any newsletters you may have missed here.

💭 Say Hello: What do you want to know about your city?

✏️️ Want to write an article for us? Find out how here.

👀 Want your business featured in our newsletter? Learn more about advertising opportunities here.
Did a friend forward this to you?
It can be in your inbox tomorrow a.m.
| | | |
| --- | --- | --- |
| @CHStoday | Follow us. | #CHStoday |
Let us know if we've missed anything and say hello@thechstoday.com
Disclaimer: Content marked with a
Ⓟ
is representative of our advertising partners.
Want to receive CHStoday once a week instead? Update your preferences here.
Never want to hear from us again? Break our hearts by unsubscribing here.
Copyright © 6AM City, LLC, all rights reserved. Legal.
Greenville, SC 29602