Dear Friends,
We would like to remind all parishioners who are attending church in person to please continue following the guidance while attending church set by the dioceses during the Pandemic. Please always wear your mask while in the church at all times, use the hand sanitizer station while entering church, keep 6 ft apart in church and in the narthex area, sit in the designated areas in church and do not to enter the church hall. Your continued support is appreciated.

Sincerely,
Soorp Haroutiun Parish Council
Lord Jesus, please keep watch over your faithful people and the holy soil of Arstakh and Armenia, now and always.
Grant them strength and lead them through this time of trial to a victorious and just peace. Amen.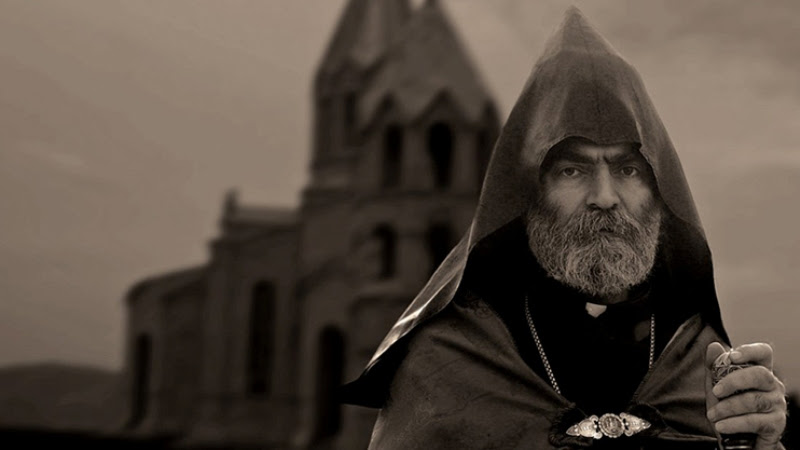 Please Pray for Our Clergy

Though most of Armenian communities around the world are concerned about the war and the civil unrest in Armenia, we ask that we also remember all our clergy in our prayers, especially Archbishop Barkev Mardirosian, Primate of Artsakh, who recently suffered a heart attack. Bishop Datev Hagopian, Primate of Romania and Bulgaria, who was poisoned by phosphorous used by the Azeris during the Artsakh war and is currently hospitalized.

Update...
Archbishop Barkev Mardirosian was recently transported to the United States where he underwent successful surgery for his heart and is currently recovering.
Sundays: From 10.30 am to Noon.
Prayer Requests for Our Faithful
Please keep Rev. Fr. Mampre Kouzouian, Margurit Balian, Arlin Baligian, Dee Bargamian, John and Iris Ganimian, John Gumushian, Anahid Frangul, Fimi Manguikian, Sarkis Minassian, Varant Movsessian, Talin Mukhjian, Christian Tresppolacios, Anil & Surekha Vaibh, Dr. Aida Khachadourian/Tchobanian, Sabrina Wood, Hratch Xatourian,


Franco Vasquez in your prayers for physical and spiritual health.
Please register your 2020 membership

Many parishioners have told us that they would appreciate reminders about membership dues. So, this is our first reminder of the year! Please take a look at your checkbook or other records. If you have not yet submitted your membership dues for 2020, now is a great time to send in your 2020 Soorp Haroutiun membership dues. Annual membership dues are $125 per person.
For your convenience, you will find a membership application on the table in the Narthex, which can be dropped off at the Church office. Also, we are accepting your donations by credit card.
Thanks to Our 2020 Membership

Rita Arnold, Elisa Azarian, Vagan Babajanian, Leonardo Badiglian, Anton Balasanyan, Arlin & Patricic Baligian, Khacho & Ghoson Bedrossian, Mariam Bezhanyan, Avedis Boornazian, Richard & Linda Boornazian, Dr. Gregory Boyajian, Diran & Anna Chamoun, Liza Derbalian-Coredo, Albert Eckian, Anahid Frangoul, Gregory Chouljian, Yn. Anna Galstyan, Antibas & Suzanne Gumushian, Arman & Suna Hartenyan, Ishkhan Hunanyan, Michael Jefarjian, Hagob & Anais Karadjian, Linda Lowman, Mariia Malovana, Garo Mekhdjavakian, Dr. Artak Mirijanyan, Robert & Siranush Mkrtchyan, Armen Mkrtchyan, Grigor Mkrtchyan, Algis & Varsenig Nakutis, Ropen & Linda Nalbandian, Sargis Navoyan, Aram & Ana Nazarian, Joanne Periera, Ann Barsamian Polasek, George & Barbara Rustigian, Eduard Sarkissian, Rose Sarkissian, John Shahinian, Dr. Michael Tiraturian & Dr. Irina Sarafyan, Drs. Aram & Aida Khachadourian/ Tchobanian, John Tegerian, Alice Tegrarian, Charles Tekesian, Marieta Vausquez, Garabed Veneskahian, Jerome & Lona Youderian, Asnot Zatikyan & Anna Mirijanyan.

Commemoration of the Apostles St. Thaddeus and St. Bartholomew, the first preachers of Christianity in Armenia
Apostles St. Thaddeus and St. Bartholomew were two of the twelve Apostles of Christ, who came to Armenia and preached Christianity in Armenia deserving the title "the first illuminators". Still at the dawn of Christianity they were martyred in Armenia. It was the result of their preaching and martyrdom that the Armenian people, being the first nation in the world, proclaimed Christianity as the state religion. Indeed, Apostles St. Thaddeus and St. Bartholomew played an important role in the history of 2000-year-old Christian Armenian nation which has unshaken faith and keen love towards its Mother Church.
Each year a Divine Liturgy is celebrated in the Cathedral of the Mother See of Holy Etchmiadzin in the memory of St. Apostles.
Dear Parishioners and Friends, on Tuesday, December 1, 2020 is

#Giving Tuesday.


it's a time to show our

Love and Support to Sourp Haroutiun Armenian Church

. May God Continue bless You and Your Family members.

Fr. Paren Galstyan
Youth Bible Study this Saturday
Saturday, Decenber 5, 2020 at 5 P.M.
Topic: Youth Bible Study

Join Zoom Meeting
https://us04web.zoom.us/j/6249377521?pwd=N3k3UzNKZXpQMldlZ3JWMmN6QzJzQT09
Meeting ID: 624 937 7521
Passcode: Church
Help Us to Update Church Directory
Dear parishioners and friends, Parish Council of Soorp Haroutiun Armenian Church is looking more people who can work and prepare the church Directory.
Call during the week to request prayers, hokehankist, visitations to the sick, and house blessings. Please let Church office know if you are planning to have Hokehankist Service. It would be appreciated to have a light lunch or coffee hour following Badarak in memory of the deceased.
ALTAR FLOWERS
Altar flowers are a gift to the church. If a family wants to decorate the church with flowers, they are free to do so. If the family needs flowers for the reception hall or cemetery they should make prior arrangements.

Altar flowers donated by Mrs. Varsenig Nakutis in memory of her brother Haigazoun Terterian
Home or Hospital Bound
As an extended family of St. Gregory, many of our sick, elderly and home bound faithful are unable to attend Church. They may be at home or in the hospital but most importantly: They are not forgotten and we would like to make sure to visit them. If you know of someone who is unable to attend Church or is in need of a pastoral visitation, please inform Fr. Paren directly

Email:

armenianchurchorlando@gmail.com

or call the church office at 407-876-7732.
The Parish Council of Soorb Haroutiun Armenian Church of Orlando is looking forward to restart the Women's Guild in our church. We are asking those who are ready to help and interested on this to contact our Chairman Mr. John Shahinian or call to church office.


Click here

to read more about the Woman's Guild of the Armenian Church of Eastern Diocese
Home Blessing
A number of families have invited Fr Paren to bless their homes. Der Hayr's schedule is flexible to accommodate even the busiest parishioners. Please invite him to your home. You may contact him at the church at 407-876-7732 or cell phone (847) 732-7183. His email address is derparen@gmail.com
Mission of the Armenian Apostolic Orthodox Church
The Mission of the Armenian Apostolic Orthodox Church is to preach the Gospel of Our Lord Jesus Christ and to proclaim its message of Salvation. This mission is realized through worship, education, witness, service, and a common life in Jesus Christ as expressed in the distinctive faith – experience of the Armenian people. All members of the Armenian Church (both clergy and lay) are called to participate fully in its mission.