In honor of Global Entrepreneurship Week (which is t-minus 28 days away by the way), fifteen colleges + universities across South Carolina are partnering with the SC Department of Commerce and South Carolina Research Authority (SCRA) to launch the state's first ever student pitch competition – SC Innovates.

Global Entrepreneurship Week is a week-long event that takes place in 170 countries around the world every November with a mission to celebrate, understand, support, and connect entrepreneurs + those who champion them. The idea for this virtual competition to fuel South Carolina's innovation economy was dreamed up by Bryan Davis of Furman University in partnership with Dr. Andrew Burkemper of Coker University in Hartsville.

This inaugural competition will be open to any student enrolled in at least a one-credit course this fall at a South Carolina-based college or university. Oh, and did we mention there will be thousands of dollars in cash prizes available? More than 10,000 big ones are up for grabs.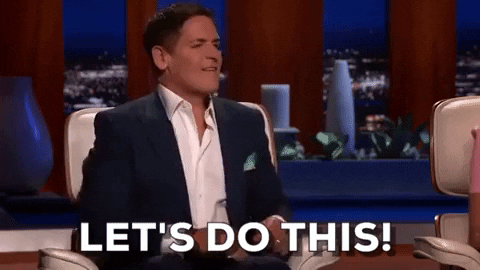 Think of it as SC's own Shark Tank for college students. | GIF from giphy
So here are the deets –👇
💡 Students must be enrolled in at least one credit at a South Carolina college/university during fall 2020
💡 One to three student members per team
💡 All entries must be for new, independent student ventures or ideas
💡 Register here by 11:59 p.m. on Oct. 25 by creating a simple idea card
💡 Submit a 5-slide pitch deck + 90-second pitch video by 11:59 p.m. on Nov. 1

Semi-finalists will be announced the week of Nov. 9 and will present at the Live Virtual Finale on Wed., Nov. 18, which is free and open to all participants and the public. You can RSVP for the finale here.

Who knows...your SC Student Innovator may end up being interviewed by Guy Raz for How I Built This or presenting to Mr. Wonderful one day. Good luck to all participating students. 👏
Send this to your niece or nephew, child, grandbaby, or next door neighbor that needs to spend less time on TikTok dances and more time on South Carolina's next big idea.
Weather
○ 81º | Partly cloudy | 10% chance of rain

NowOpen
○ Brooklyn Express Pizza is holding a soft opening today, in the former Sabor Latin Grill location, in the Vista at 701 Gervais St. The New York-style pizza restaurant will be open Monday-Thursday from 11 a.m.-10 p.m. + Friday-Saturday from 11 a.m. until the last slice is gone. In addition to pizza, the menu includes wings, meatballs, garlic knots + more. (Cola Daily)

Civic
○ The City of Columbia recently applied for designation as a Bicycle Friendly Community to the League of American Bicyclists, which reviews the applications from communities throughout the US. The city is asking for feedback – if you are interested in participating, take the survey before Nov. 15. (Metro Columbia CEO)

Coronavirus
○ UofSC received a $16.7 million grant to expand its rapid saliva-based COVID-19 testing to other colleges and universities across the state this spring. (UofSC)

Active
○ Chosen Uno Training, a local gym that started in 2018 by UofSC graduate Steadman Rogers, has moved into a 1,100 sq. ft. space, located at 2627 Millwood Ave. The gym focuses on personal and group training + is now open and accepting memberships. (CRBR)

Tech
○ On Tuesday's Joint Bond Review Subcommittee meeting, an update was given on the digital divide in SC. The Office of Regulatory Staff has received ~80,000 orders for hot spots as a temporary solution and the team is exploring more permanent options with SCETV. Currently, SCETV towers are datacasting school work to rural areas + the program has expanded to four school districts. (WIS)

Number
○ $5.59 million. The amount that the South Carolina Arts Commission distributed in grants to 835 artists + arts educators in 44 counties. Check out this map to see where in SC the funds were awarded. (Metro Columbia CEO)

Asked
○ From light displays to inflatable ghouls, larger-than-life spiderwebs + porches with poltergeists – you no longer need to travel to a haunted house to see the best spooky scenes in Columbia. What homes, neighborhoods, or businesses have the best Halloween decorations? It can be your own or one you've spotted around town. Let us know. It'd be a real treat if you include details about the decor – or better yet, a picture.🕷

Trending
○ According to the "FrightGeist" website, Columbia's top five most searched Halloween costumes of 2020 are The Purge, Miraculous ladybug, physicians, Minions + the Little Mermaid. Nationally, the most searched costume is a witch. (The State)

Ranked
○ 4th. South Carolina is ranked fourth in the nation for high school computer science education and is the only state in the US that requires a full year of computer science for graduation. (Columbia Metro CEO)

ForParents
○ Halloween will certainly look different due to COVID-19, but there are several ways you can make Halloween fun while staying safe. Pediatrician Christina Martin, MD, breaks down how to have a fun and safe Halloween during COVID-19. 🎃 Ⓟ

Community
○ DYK you can give back to local schools just by grocery shopping? Learn more about Lowes Foods' Cart to Class program, which will provide up to a quarter of a million dollars to local schools this year. 🍎Ⓟ

Click the button below for local resources regarding the coronavirus.
This month the local mentoring nonprofit organization Big Homie Lil Homie was featured on EllenTube and received an unforgettable surprise from Tiffany Haddish.

The founder, Jamal Stroud, created the program to help give back to his community and works to help over 225 at-risk boys in foster care through mentorship. Watch the video to see the big surprise from Tiffany Haddish, who also grew up in foster care.

*Spoiler alert – he was gifted $10,000 to continue his programs.
#DYK that your photo could be featured in our newsletter? Just use #COLAtoday on social media.
Network
○ Entrepreneurship and Innovation in the Midlands | Thurs., Oct. 22 | 12:30 p.m. | The Grand | Free | Join to hear Sergio Aparicio and Erin Curtis discuss entrepreneurship and innovation in the Midlands. 💼

Talk
○ Mama Can You Hear Me? A Cry From the African-American Soul | Thurs., Oct. 22 | 6:30-7:30 p.m. | Virtual | Free | Dr. Valinda Littlefield associate professor and Dorothy Roberts author of Killing the Black Body: Race, Reproduction, and the Meaning of Liberty will cover the topics of healthcare rights + racial injustice.

Cause
○ Virtual Art Class | Thurs., Oct. 22 | 7 p.m. | Virtual | $40+ | Help support Communities in Schools of the Midlands in this virtual fundraising event. Featuring artist James Busby. 🖌️

FeaturedEvent
○ Mixology Class | Thurs., Oct. 22 | 5:30-8:30 p.m. | Main Course | $25 | Master the art of mixology with mixologist Quinn Sellers, who will teach the class how to make three different martinis. 🍸 Ⓟ

PlanAhead
○ Plogging with GCWA | Fri., Oct 23-Sun., Nov. 1 | 7 a.m.-10 p.m. | Virtual | $20 | Participate in the virtual race from anywhere, the only requirement is that you pick up trash on your way. Learn more about the event and prizes here. Ⓟ
Disclaimer: It is up to readers' discretion to determine whether they feel comfortable participating in any mentioned events based on COVID-19 protocols and precautions. If you have questions, please contact the event's organizers directly.
Photo provided by ButcherBox
Finished your last video call of the day? Found a new mask that fits just right? Got the kids to focus for more than five minutes? ButcherBox calls that a win. And a win calls for free filet mignon and lobster. Yes, we said free.

For a limited time, they're giving new members wild-caught lobster tails sourced from a family-run business off the coast of Maine – plus 100% grass-fed filet mignon – in their first box for free. This deal ends tomorrow. Ⓟ
Answered: Yesterday we asked how you would feel about attending a concert this fall at the Historic Columbia Speedway. 56% answered that you could be persuaded by the artist.

🔄 Catch up on any newsletters you may have missed here.

💭 Say Hello: What do you want to know about your city?

✏️️ Want to write an article for us? Find out how here.

👀 Want your business featured in our newsletter? Learn more about advertising opportunities here.

📖 Check out our Editorial Ethics Policy here.
Did a friend forward this to you?
It can be in your inbox tomorrow a.m.
| | | |
| --- | --- | --- |
| @COLAtoday | Follow us. | #COLAtoday |
Let us know if we've missed anything and say hello@colatoday.com
Disclaimer: Content marked with a
Ⓟ
is representative of our advertising partners.
Want to receive COLAtoday once a week instead? Update your preferences here.
Never want to hear from us again? Break our hearts by unsubscribing here.
Copyright © 6AM City, LLC, all rights reserved. Legal.
Greenville, SC 29602