On behalf of the Church, the Mission and Outreach Committee's budgeted Disaster Relief fund, sent a $500.00 donation to Presbyterian Disaster Relief to help address critical needs related to the Syria-Turkey earthquakes.


************
Lenten Offering
Around the world, millions of people lack access to sustainable food sources, clean water, sanitation, education, and opportunity. The three programs supported by One Great Hour of Sharing (OGHS) — Presbyterian Disaster Assistance, the Presbyterian Hunger Program, and Self-Development of People — all work in different ways to serve individuals and communities in need. From initial disaster response to ongoing community development, their work fits together to provide people with safety, sustenance, and hope. Received during the season of Lent (February 22 – April 9), each gift to OGHS helps to improve the lives of people in these challenging situations. The Offering provides us a way to share God's love with our neighbors in need. In fact, OGHS is the single, largest way that Presbyterians come together every year to work for a better world.

You are invited to contribute at any time during this season and we'll formally dedicate this offering on Easter Sunday, April 9. You will find OGHS envelopes in the pews, and if donating by check, please put OGHS in the memo line of your check made out to First Presbyterian Church, Albany. You can also give online and select the One Great Hour of Sharing fund.

************

The Outreach and Mission Committee is collecting needed articles for the Giffen Elementary School's "Clothes Closet" which goes beyond just clothes. Articles may be left in the box in the Assembly Hall designated for this purpose. Items Needed: hoodies for little kids, 6-8, 10-12; small sneakers 8c, 9c, 10c, 11c and 12c; sweatpants for little kids, 4t, 5t, 5, 6, 8,. 10; hand sanitizers. Recently given out: 8 pairs of boys underwear and sweat pants; approx. same number of girl's leggings; 6 pair of socks and 4 pair of boots.


************

FOCUS Available Assistance & Volunteer Opportunities
FOCUS Breakfast Soup Kitchen: Hot egg sandwiches, coffee and more! Join us 7 AM - 8:30 AM every Tuesday, Wednesday and Thursday at Westminster Presbyterian Church, 262 State Street. All are welcome! Local community organizations are here to serve our guests with information about housing, healthcare and job training.
The FOCUS Interfaith Food Pantry: open five days a week (Mondays through Fridays) from 10 AM - 12:45 PM. It is located at Emmanuel Baptist Church, 275 State Street. To place an order, please call: 518-443-0460, ext. 1.
Want to volunteer? FOCUS Churches is seeking volunteers to help at our Breakfast Soup Kitchen (Tu, Wed, Th; 6:45am to 8:45am) and our Interfaith Food Pantry (Five days a week, M to F, 10am to 1pm). Can you help us one day a week? Join us as we offer lavish hospitality for our Food Pantry and Breakfast guests.
If you are interested in volunteering, please contact FOCUS Volunteer Coordinator Belinda Quaye: belindaq@focuschurches.net or call: 518-443-0460, ext. 2.

************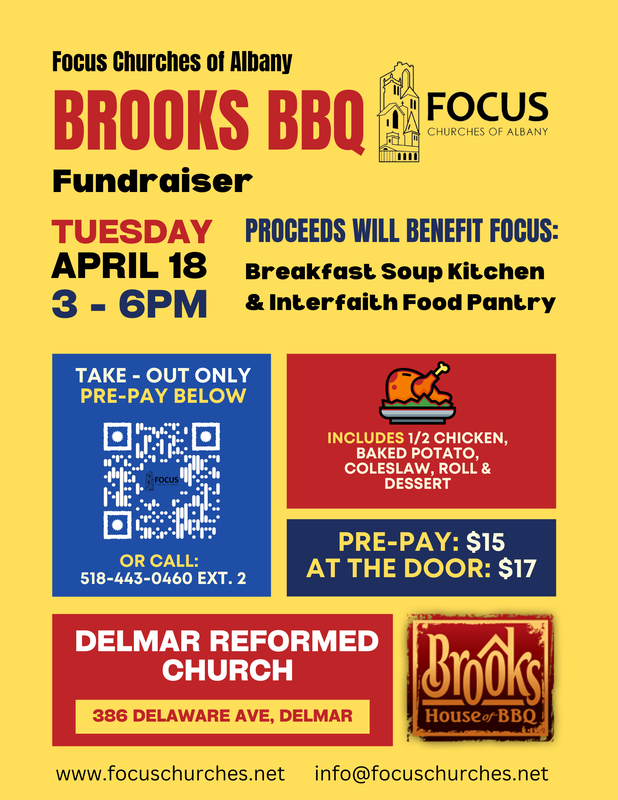 BROOKS BBQ! Tuesday, April 18th, 3 to 6pm
at Delmar Reformed Church parking lot
To pre-order your delicious "to-go" Chicken BBQ meals (and for more info), please go to:
https://www.focuschurches.net/brooks-bbq-fundraiser-2023.html